Advanced Features
With any paid Yarkon subscription, you also have access to these advanced features.
Deep Links
Use the Linking feature of Yarkon to easily share links to documents and folders with other Yarkon users in your organization. If a user has access to the document or folder in the link, the target object would open automatically in Yarkon, making collaboration one-click away.
Deep links work for documents, folders and buckets. Folders and buckets would be automatically displayed in Yarkon. For documents, Yarkon would open the containing folder, and then open the document itself. The result depends on the document type. For instance, image documents would be displayed in a new browser tab, whereas Office document would be downloaded.
Bucket size analysis
Use the Analyze feature of Yarkon see how your storage is being used. Drill down using the chart interface to identify and save waste.
Glacier archiving
Yarkon provides full support for all S3 storage options, including Glacier and Deep Archive.
You can control the storage class settings for any document, or any folder including all its content, directly from the user interface with few clicks of the mouse. Changing your storage option was never easier.
The newest addition to the S3 storage class options, "Standard-IA", is a great option for documents you need to access less frequently, but when needed, they have to be readily available. "Standard-IA" offers the high durability, throughput, and low latency of Amazon S3 Standard, but with a low per GB storage price and per GB retrieval fee, allowing you more choices for better economical use of your storage budget.
Bucket display name
One of the S3 limitations is the requirement for bucket names to be globally unique. All the good names are already taken, it seems.
While we cannot change that, Yarkon now allows you to define a Display Name for your buckets, which will be shown in the UI instead of whatever S3 made you name the bucket.
Using this feature requires granting the permissions S3:GetBucketTagging and S3:SetBucketTagging to the Yarkon Admin Console AWS User. The display name is using a bucket tag named yarkon-display-name.
Bucket acceleration
Amazon S3 Transfer Acceleration enables fast, easy, and secure transfers of files over long distances between your client and an S3 bucket. Transfer Acceleration takes advantage of Amazon CloudFront's globally distributed edge locations. As the data arrives at an edge location, data is routed to Amazon S3 over an optimized network path.
You can enable S3 Transfer Acceleration directly from Yarkon Admin Console, or using your AWS Console.
When using Yarkon, S3 Transfer Acceleration can be enabled or disabled at the account level and per bucket, so you have full control over the usage.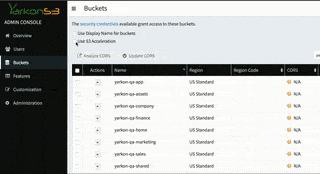 For the complete details, see this document from Amazon.
Document sharing
With Yarkon, users can optionally share documents with people outside of the organization, using links with preset expiration (up to 7 days). This feature allows your end users to work with people who might not have access to the documents, but also make sure that this access is time limited.
You can share documents (one or many) directly to your preferred email program, or as links that can be copied to the system clipboard.
Versioning
Yarkon has full support for document versions, when using buckets with the versioning feature enabled. You can use Yarkon to upload new versions of a document, then view all versions in one convenient location, open or download a specific version, and even delete an older version you no longer want to keep.