Feb 9, 2019
Yarkon 3.5.1 is now available with S3 compatible support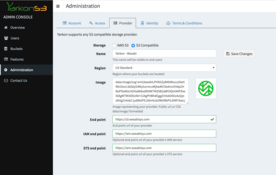 Version 3.5.1 of Yarkon is now available, including out of the box support for any S3 compatible storage provider, such as CEPH, Wasabi, Minio, and others.
The new features are available immediately for users of Yarkon Cloud.
Users of Yarkon Server should upgrade to the new release if interested. It is immediately available as a FREE trial AMI and docker. AWS Marketplace versions will be updated in the coming days.
For more information on how to set up Yarkon with an S3 compatible storage provider, check out these documents: