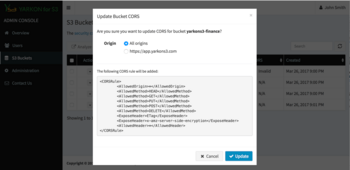 You only need to update the CORS rules for bucket you expect end users to be using with Yarkon.
Important: This feature will only work if in the principal policy you created for Yarkon you allowed the S3 actions required for CORS. If you did not, you can follow the steps below to handle the task manually.
Enabling
CORS

Manually

If you prefer to update the CORS rules for your S3 buckets manually using the Amazon Console, go to the S3 service, and for each bucket you need accessed by end users, click on the bucket, then go to the "Permissions" tab and use the "CORS Configuration" button to edit the CORS rules for that bucket.

Note that the changes do take a little bit of processing by Amazon, and it is also possible that due to browser caching, it might take a few minutes before you can access the newly updated bucket.
The CORS rule for Yarkon also includes the headers ETag and x-amz-server-side-encryption. These are required for properly handling downloads and encrypted documents.
All origins
To enable access from all origins, use the * (the star character), like so:
Enabling for all origins is useful if you run different editions of Yarkon at the same time.
Specific origin
The following is the proper CORS rule to be used to enable access by Yarkon Server. Just replace the origin url with the DNS name you assigned Yarkon in your organization. We discuss the DNS name in the step Handle network and security, so for now, either use the current DNS name of the server, or allow CORS for all origins. You can finalize this when you have the DNS all set.
Next Step – Implement user and group level permissions
Go back to Getting Started