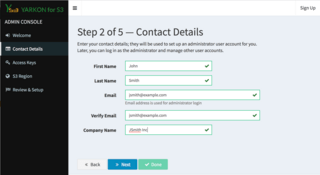 AWS

Integration

In the next two steps, you tell Yarkon how to access your AWS Account.

Enter your API Access Keys in the form. You can optionally use the Validate button to verify that the access keys you entered could be used by Yarkon. If the keys are invalid for whatever reason, Yarkon will provide feedback to help you resolve the issue.

Choose the Security Model you would like to use. For more details, please review this document. If you are just starting with AWS IAM, it would be easier for you to start with the simpler Shared Security Model. You can always change it later – see the document on how to set up Yarkon Cloud for integrated security.

If you choose the Integrated Security Model, you will have to choose the IAM role you would use for this IAM integration from the drop-down. For more details, please review the aforementioned document, and specifically the section describing how to create a role. The easiest way to ensure the API Access keys you use here have sufficient permissions for this IAM integration, is to attach the policy you created for the role to these keys (specifically, the required IAM permission is ListRoles).

When you are done with the keys, move to the next step and choose from the drop-down the AWS region you use. While the Yarkon client application would work with any region choice you make here, it is preferable to choose the region where most of your buckets are hosted. If you are unsure, use the default which is US Standard.
Review & Setup
The final step of the process is used for verification. Review the details displayed to ensure all are correct. If you want to make changes, you can use the Update button available for each section. When done, click the Done button to have the system proceed to create your administrator user account and set up Yarkon for your AWS account.
The system might take a moment to complete the registration after going through some back-end validation process. After it completes, it will send an mail with your login credentials to the email you provided.
Login & Set password
Use the temporary password sent to you by mail to login to Yarkon for the first time. The system will prompt you to replace the automatically generated temporary password with whichever password you choose. Use the same password to log in to the Yarkon client application.