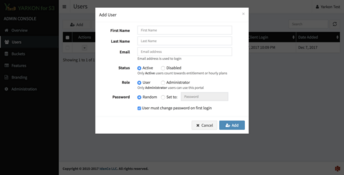 A random password can be generated by the system, or a password can be set by the administrator. The credentials will be communicated to the user using the email entered as the username.
Strong passwords can be enforced using the Administration page, Identity tab.
Import users
Yarkon also supports bulk import of users, using a standard CSV (comma delimited) file. Simply use the Upload button from the Users form. The format is described in the user interface.
When users are being added in bulk, welcome emails will not be sent. Instead, Yarkon will set up all user accounts added in bulk with the password "Password" (the word password, with the P capitalized). The administrator should communicate this place holder password to the end users. They will be required to change their password on first login.