If you are only looking for an improved end user experience, then you do not need to consider upgrading. True to our commitment to our clients, the end user client tool is identical for the free and paid editions. End users get exactly the same behavior and enjoy exactly the same feature set.
If you are using the application for managing your personal files, meaning that there is only one user – yourself – then you gain no value from having the enhanced user management capabilities you get by upgrading.
Lastly, if you accept that your AWS credentials would be kept, encrypted, on your computer, which is – while secure – not as secure as keeping them only on the server and using temporary credentials only from your computer, then you should also be fine with the free Web Edition.
Benefits of upgrading
IAM

integration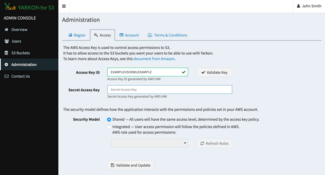 If you use IAM to manage access permissions to your buckets, then you have to use one of the subscription (paid) editions of Yarkon. These editions include a server side module that ensures that user permissions are enforced.
For instance, if in your organization you have different buckets or folders with different access rights, maybe some users are allowed to read and write from one, but only read from another, then the Web Edition will not be able to do that.
User management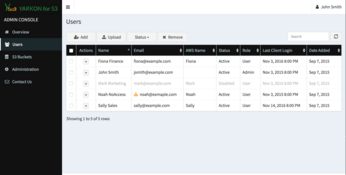 If you have an organization, not just a personal account, and you need to manage user access (for instance, add or remove users, revoke access when people leave, etc), then the user management capabilities of one of the subscription editions of Yarkon is what you require.
From one central location, you'd be able to add and remove, activate and suspend users, as well as track users login. You'd also be able to verify the actual access permissions a user has (specifically, which buckets the user can access). With Yarkon you do not need to give end users access to the AWS console or have a different set of credentials for each user.
Added Security
With any of the subscription based editions of Yarkon, your AWS API keys are never shared with the end user computers. Only temporary short lived credentials are used by the end users to access your AWS account. This ensures that even if an end user's computer is compromised, your account credentials would remain secure.