You will not be able to complete the setup process without some simple yet required preparation work.
See the Getting Started guide for the complete details.
The system consists of two main modules:
Yarkon Web Client application, the front end used by all end-users.
Yarkon Admin Console server, responsible for user permission management, and for serving the

HTML

files to the end clients. This module is hosted in our cloud.
To learn more about the client experience with Yarkon, please use the demo application – it is using the infrastructure of the Cloud Edition and is functionally identical to it.
The
FREE

Alternative

Not all organizations and users need to use the subscription based Cloud Edition or Enterprise Edition of Yarkon. For many, the FREE Web Edition is plenty good. Check out this article to see if you should upgrade or opt for the FREE ride instead.

In any event, even though we offer a 14 day free trial, it is still recommended that you start using Yarkon with the FREE Web Edition and make sure that it is a good fit for your needs.
Pricing
The Cloud Edition of Yarkon is available to subscribers in two licensing models, the Contract model, usually referred to as Entitlement, and the Consumption model, usually referred to as Pay as You Go or Hourly.
In either model, the charges are being calculated by AWS and added directly to your AWS bill, then disbursed to Yarkon through AWS. Yarkon does not charge any fee other than what is specified here; there are no AMI or hosting fees to be paid to AWS.
Yarkon is using your S3 account. You will incur the standard AWS S3 fees, depending on your specific usage and network/API utilization. AWS publishes its S3 fees here: Amazon S3 Pricing.
Active Users
Yarkon pricing, in either plan, is based on the number of Active users. Same as with subscription based AWS services, an Active user is a user that is in a status active – which means a user that can login into the system and use it. Whether the user actually logged in to the system is not something that is tracked or factored into the actual cost.
If you have users that you do not expect to be using the system for an extended duration of time, make sure to use the Yarkon Admin Console to put these users into status disabled, so they are not charged in the Pay as you go (hourly) plan, or can be replaced with other users in the Entitlement (contract) plan. You can always restore these users to status Active if needed later.
Entitlement
In the "Entitlement" option, subscribers are entitled to use up to a set number of Active users. An Active user is a Yarkon user with status Active. A user with administrator permissions may use the Yarkon Admin Console to update a user's status at any time. The maximum number of active users the subscriber is entitled to have is defined when you sign up for the service from the AWS MarketPlace. You may use the AWS MarketPlace to update your subscription limit at any time. AWS will prorate the cost automatically.
The cost for each active user, per month, is $1 (one US dollar).
For instance, if you are entitled to 10 active users, your total monthly cost will be $10, even if you only had 9 active users during the month.
Use this method if the total number of users is known in advance or does not change often, and you wish to ensure your total expense is known and capped.
Pay as You Go (Hourly)
In the "Pay as You Go" option, subscribers only pay for the units of the product consumed. The Cloud Edition of Yarkon usage is metered by the number of Active users per hour. An Active user is a Yarkon user with status Active. A user with administrator permissions may use the Yarkon Admin Console to update a user's status at any time.
The cost for each active user, per hour, is $0.002 (two tenth of a cent).
For instance, if you had 2 users active during a 30 day month, and 1 user active only for 15 days during that month, your total charge would be 2 × 30 × 24 x 0.002 + 1 × 15 × 24 x 0.002 = $3.60.
Use this method if the total number of users is often changing, or you prefer to avoid a monthly commitment.
Termination
We are always sad to see you go, but we understand that sometimes the product is not a good fit or does not work for everyone.
If you are on the Contract plan – according to the AWS MarketPlace procedures, once the contract is terminated, we will receive an automated message and will terminate your Yarkon account. AWS is handling the charges and will stop any monthly or other deduction from your account.
If you are on the Hourly plan – make sure to go to the AWS MarketPlace and unsubscribe. Once you do that, AWS will notify us and we will terminate your Yarkon account. AWS is handling the charges and will stop any monthly or other deduction from your account.
We will do our best to scan for abandoned accounts (meaning, subscribed accounts without any user activity) and notify you so you could cancel your subscription and avoid any unnecessary payments.
Free Trial
We offer a 14 day free trial of Yarkon Cloud Edition, when subscribing through the Hourly model. You can set it up and add up to 100 user accounts, for the first 14 days, free of any charge.
We also have a Demo Application set up so you can take the application for a test drive with minimal up-front effort.
If you do not want to keep using Yarkon after the free trial period has ended, make sure to unsubscribe from the service using the AWS MarketPlace. This will ensure that any payment is automatically stopped by AWS and you do not incur any unwanted charges.
Please understand that there is no other way for us to know that you do not wish to keep using Yarkon with the Hourly plan. Alternatively, you can choose the Contract option, and sign-up a single user for one month. It will cost you $1, but will not require any additional action should you decide to discontinue the service after that month.
Getting Started
To get started with the Cloud Edition of Yarkon, follow the detailed Getting Started guide available. It will lead you through the process of setting up the basic IAM security using the Shared Security Model (see below for more details), subscribing to the service using the AWS MarketPlace, and adding end users to the system.
Security Models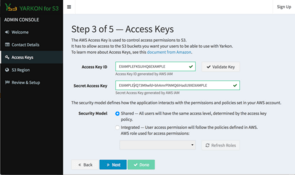 The Security Model controls user access to the S3 buckets. Yarkon supports different Security Models. In case you want to use the Integrated Security Model, you need to have your organization set up in IAM. An example of such an organization is provided here: Setting up the users in AWS and granting them permissions to access buckets using Groups and Policies.
Follow these guides to set up Yarkon based on your preferred Security Model:
Frequently Asked Questions
Do you offer a free trial?
We offer the Web Edition of Yarkon for

FREE

. The client side application, which is the main component of the Yarkon system and used exclusively by all end users, is identical throughout all editions of Yarkon, so you can try it for as long as you want. The paid editions only differ by their server side component. We also offer a 14 day free trial of the Cloud Edition, with up to 100 user accounts. Lastly, if you only want to see the system in action, use the Demo Application.
How does your Cloud service work?
When users log in to Yarkon, the Yarkon Cloud Server authenticates them using their username and password credentials. Once their identity is verified and confirmed, the server will authorize the users with

AWS

S3, and if needed, with

AWS

IAM

. See Security Models for more about the authorization process.
How are users added to the system?
While Cloud Edition of Yarkon can be used by individuals, it is an organization service for companies of any size. The first step is to create an account; this will create an administrator account that can then be used to manage end-users. The administrator can then add as many end-user accounts as needed, and remove them when they no longer require access to

AWS

S3. The end-users themselves do not need access to the Yarkon server, or to the

AWS

Dashboard.
How do end-users access their S3 buckets with Yarkon?
End-users are using the Yarkon Web Application. This is a client side HTML5 application, running inside a user's browser. To be able to use the application, a user only needs to provide her username and password. The username is the user's email, the password can be managed by the user herself. For more about the client application and its feature, see the Cloud Edition Tour.
Where are user passwords kept?
In the Cloud Edition of Yarkon, the user passwords are kept in our database. We use the highly secure

AWS

RDS

service for this purpose and follow all the security best practices and recommendations from Amazon to ensure the security of the end-user data. The password themselves are hashed using the Bcrypt algorithm using a random salt.
Why do I have to provide

AWS

API

credentials?
Any

API

access to

AWS

requires

AWS

API

credentials. This is more secure than using a username password pair. We store the credentials in our database in encrypted format. You have full control over the credentials and can change or revoke them at any time. It is important to understand that your credentials are never shared with any user and are never sent over the internet to a client machine. Following

AWS

strictest security recommendations, clients only get short-lived temporary credentials. The Yarkon Admin Console server never displays the secret key. Your

AWS

credentials are only used by our server to communicate with the

AWS

IAM

and

AWS

STS

services.
Where can I see the user manual for the client application?
We add to our documentation all the time, and enhance it as needed. To get a good understanding of how to use the Yarkon web client application, please check out one of the tours:
What are the known limitations of Yarkon?
See the limitations page for a list of current known limits on using Yarkon.
Suppose I encounter an issue, can you help?
Absolutely. We have a good experience with organizations being able to set up the application without assistance, but your situation might be unique. Please contact us with any question you might have.
I have a question that is not on this

FAQ

, can you add it?
We can, but first please check the full list of Frequently Asked Questions. If the answer to your question is not there, please contact us. If we think the answer to your question could benefit others, we will add it to the FAQs.